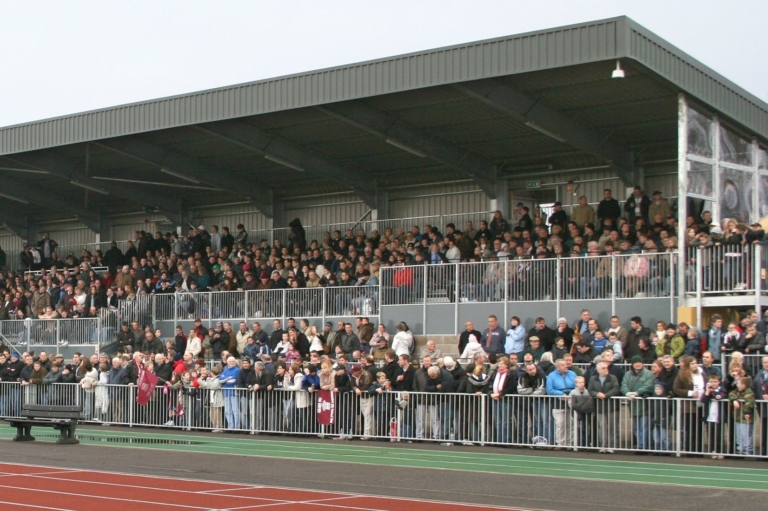 We extend a warm welcome to you our visitors and look forward to seeing you.
We could recommend a few pubs in and around Chelmsford that you might want to visit before the match but there's only the one place you should go to and that's The 'Clarets' bar – Chelmsford City's very own club house and bar, before the match.
On a match day the bar is open from 1pm. Bar prices are very reasonable and there is a fine selection of real ales and ciders. On the concourse there is also a very well stocked burger van offering chips, hot dogs and burgers.
There is a large TV screen, along with two other smaller ones showing football from either Sky SportsHD or TNT SportsHD and free WiFi.
How to find us:
Melbourne Community Stadium
Visiting the Melbourne Community Stadium
By Car
There are a small number of parking spaces on matchday located at the centre, and limited parking is available on street, so we would ask where possible for visiting fans to make use of their own coach services. If travelling independently we would ask you to consider the public transport options listed below. If you do have to drive to the venue, we would ask all supporters to consider our neighbours when attending games. Please do not block access to driveways or garages when parking
Public transport
Chelmsford Railway Station is served by the London Liverpool Street to Ipswich main line. In order to make a 15:00pm Saturday kick-off the latest train you should catch from London Liverpool Street by no later than is 12:45pm to comfortably make kick-off and the same applies from Ipswich. To make a midweek 19:45pm kick-off, leave London Liverpool Street by no later than 18:15pm and Ipswich by 18:00pm.
Travelling by bus
The C2, C3 and C11 buses run a regular service every ten to fifteen minutes, departing from the Bus Station, which is situated on the left hand side of Duke Street just after the viaduct. Your journey should take around fifteen minutes from this point.
Taxi
There is a Taxi Rank at the rear of the station.
The Melbourne Community Stadium is a no smoking stadium, however there is a designated smoking area on the hard-standing outside of the main clubhouse. The clubhouse is open before, during and after the game for refreshments.
We look forward to welcoming you to our Club and hope your stay (if not the result) is pleasurable.