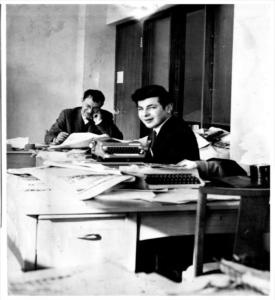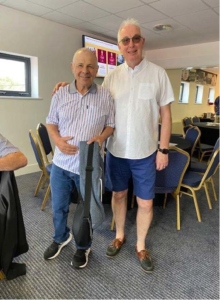 (Above Left: Martin Rogers at the Essex Chronicle in the early 1960's, Above Right: Martin Rogers & David Selby at Chelmsford City 2023)
Q. Martin it is great to see you back at Chelmsford City – you now live abroad – could you tell us where/how long and why?
We moved to the Gold Coast in Australia in December 1988, my wife Lin and son Martin, a lifestyle choice we've never regretted.
Q. A local lad, what school did you go to?
I lived at High Roding and went to the Grammar School. It was always my ambition to be a sports' writer.
Q. How did you start in sport journalism?
With Reg Hayter's sports reporting agency in Fleet Street, then with a magazine group whose titles included World Soccer and Soccer Star.
Q. Where did you work and for how long?
I had four years in London, during which time I began covering City matches and matters for the Essex Chronicle Series, who eventually brought me on to the staff. I was sports editor of the Newsman Herald (Tuesday paper), and Bernard Webber's right-hand man on the Chronicle. They were golden days for newspapers, it has to be said.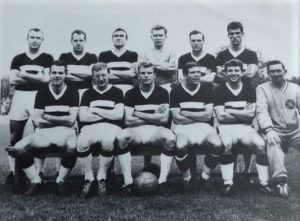 1962 – Chelmsford City 1st Team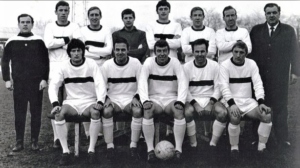 1968- Chelmsford City 1st Team
Q. What was it like back in those days, 60s/70s and 80s at New Writtle Street?
I saw my first City match as a schoolboy in 1958, remember the thrill when lights were installed, and actually reported on hundreds of matches home and away up to 1980, when my wife Lin and I bought Leicester Speedway. We promoted about 400 race meetings there, at King's Lynn and Peterborough, before selling the businesses and moving overseas.
New Writtle Street was such a buzzing place for years. The pursuit of a place in the League, 'name' players coming, those Southern League title wins in 1968 and 1972, healthy crowds, optimism all round. The club's activities were a constant talking point in the community and most of the people involved in the local soccer scene were really invested in what was going on.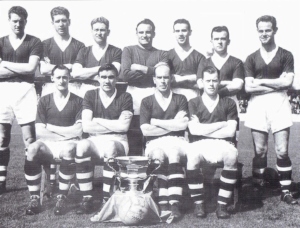 Chelmsford City 1st Team 1957/58, with legendary Tony Butcher back row far right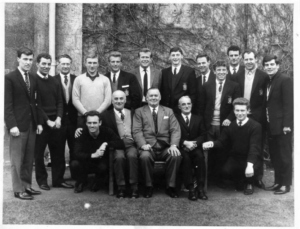 1964 – with Chairman, John Coward
Q. What big games do you remember?
The clashes with the likes of Oxford United and Cambridge United before they got in the league. Local derbies against Romford. FA Cup matches, such as those against Ipswich – then a real force – who won 3-1 at the stadium in 1973, in front of nearly 16,000, and old rivals, Colchester – who City also lost to, unfortunately. Beating Third Lanark under lights. And the three-match cup saga, before beating Oxford in what was also a championship year.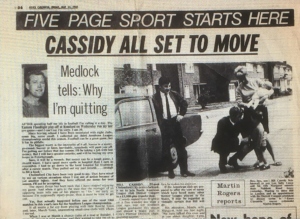 1968 Billy Cassidy departure
Q. How was non-League football back then and how does it compare to the present day?
It was very competitive and the number of clubs from that time who now play in the league are testimony to that. Unfortunately, when Chelmsford's case was at its most compelling, the timing was wrong. My instinct is that today's players are technically better, fitter, faster and more sophisticated, but, that said, City had some stellar performers with stacks of big-time experience, and they were great to watch. Some savvy managers, too, with great connections …. Billy Frith who almost won the league, Harry Ferrier and Dave Bumpstead, who both did.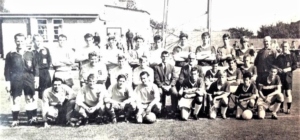 1964 1st Mercia league game with Ossie Wiltshire, Peter Collins & Bryan King. Ossie Wiltshire discovered legendary all-time City goal scorer, Tony Butcher – spotted in local football.
Q. What are the major changes you have noticed?
It isn't New Writtle Street, but at least the club found a home after the years on the road. I managed to time a visit to coincide with the first match played at Melbourne Stadium. In today's world, a crowd of around 1,000 can still create atmosphere, but for us oldies, it's not quite like five or six thousand in full cry at the old ground.
If you jumped in a time machine you wouldn't recognise the football scene of those days. We had a Tuesday paper called the Newsman Herald of which I was sports editor, and our coverage of City and local football occupied several pages and kept the public up to date with everything. The Friday Chronicle was the traditional paper, with more pages and wide circulation, over 40,000, from memory.
Football gossip and conversation was everywhere and when there were Monday night games at New Writtle Street, most of the local Saturday and Sunday players helped boost the crowds.
It added to the sense of things happening when players like Peter Collins (Tottenham Hotspur), Bryan King (Millwall) & Nigel Spink (Aston Villa), and others, caught the eye of the big clubs and moved on to top level professional football, coming through our youth system.
Q. Finally, how often do you come back to the UK and when can we expect to see you again?
We have fewer family members and reasons to come nowadays, plus our son, Martin, who works for Fox Sports, is based in California with his family, so that's where most of our travel is directed now. City's (and Arsenal's) are still the first results I look for, though, and hopefully I'll be back for another visit at some stage. I also keep in touch with David Selby, whose daughter lives in Queensland, and we've caught up at cricket and speedway in Brisbane, where most of the conversation was about the City!
Interview on 19th August in the Chelmsford City hospitality suite (Don Walker), before the game.